Home Learning Expectations
Homework
Each week Class 3 will be given spellings, reading, times tables and punctuation and grammar work. All home learning expectations are planned to support children's learning ensuring they are making progress.
Reading
In Class 3 we support and encourage your child to further develop their love and passion of reading. During the school day there will be opportunities for children to read independently and with a teacher. The children are welcome to bring books from home but are also encouraged to widen their reading range by choosing from our ever-growing book corner. Children are supported to predict and infer from their reading. Through reading regularly children's confidence will grow and will support their writing.
Spellings
Spelling tests are held every Monday and children will be given their new set of words to learn for the following week. These words will belong to a word group and linked into what we have been learning in class. Children will be encouraged to identify patterns and deepen their grammatical understanding of the spelling words, this will help children learn their spellings and wider vocabulary.
Grammar & Punctuation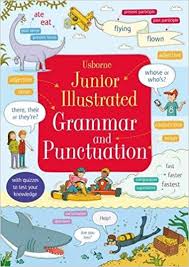 "Fronted adverbials? The passive voice? Subordinate clauses? We just didn't study this when I was at school!" We are well aware of how alien some of these terms seem to parents. We highly recommend the following book:
Usbourne Junior Illustrated Grammar & Punctuation Dictionary
Maths
Maths is taught using the materials of the Maths Hub. This uses the expectations from the National Curriculum and provides a comprehensive scheme which offers challenge as well as a robust curriculum. The children will develop their fluency of key mathematical skills and then move on to use their skills to reason and problem solve.
Children will be tested on their rapid recall of multiplication and division facts up to 12 x 12 every Friday.
Topic
Upon occasion, the children will be asked to research a question which will help with their topic work in class. Often these questions are generated by the children and used to focus and explore the topic. Children may be asked to bring materials and equipment from home to help with a project in school: for example a science experiment or a DT project.