New build update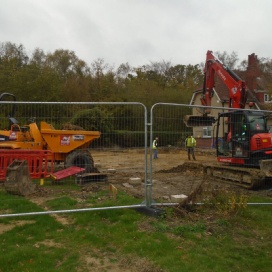 Work continues apace with our exciting new build project.
During the half term holiday, the builders were able to take advantage of the dry weather and carry out excavations across the field for new storm drains. The main drainage system for the new building has also been installed.
The children have enjoyed watching the diggers at work and the bases and plinths onto which the new building will be placed are now in position. The module is being constructed off site and we are all looking forward to its arrival. We will let you know when this is going to happen and in the meantime we thank you for your patience whilst building work continues on our school site.