Girls football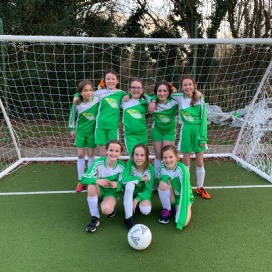 On the 29th January the Class 4 girls team competed in a friendly tournament. Well done to all! A big thank you to Conrad Chant for coaching the girls.
Match report written by Delilah.
We were up against Goudhurst and Benenden. At first we were against Goudhurst. The game was tough but thanks to our goalie Ava, and others the score was 0-0.
Next Goudhurst played Benenden and Goudhurst won 5-1.
The last round was pretty intense (but fun) thanks to our amazing player/striker Eleanor, we won 3-0. She got a hattrick (scored all three)!
The overall winner was Goudhurst by two points, putting Colliers Green in second place! We most certainly had a smashing time I loved it so much and I think all of the team would agree.
A big thank you to Mr Chant for organising the all girls football competition. Hopefully there will be more opportunities in the future.