Football triumph!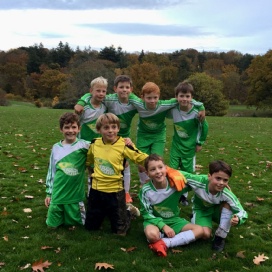 The class 4 football team had a magnificent afternoon yesterday. Full match report by team captain Jake Addis.
Year 5 & 6 Match Report - Colliers Green, St Ronan's and Marlborough House
6th November 2019
We were invited to play in a triangular match at St Ronan's. Firstly, we were up against St Ronan's who had just beaten Marlborough House 2-1. We dominated the first half going 2-0 up. Will Baxter scored both of the goals! Then in the second half it was a bit more even. Will Baxter got his third goal to make it 3-0! He had completed his hat trick and that was the end of the first game. The next match was against Marlborough House, a bit more of a tricky game. Josh scored against them in the first half. We had two minutes to go and they were putting pressure on us but our defence was solid and the final score was 1-0 to us. It was a really big team effort and everyone played their part. St. Ronan's and Marlborough House were both gracious in defeat and we all enjoyed our afternoon at St. Ronan's. I would like to give Conrad Chant a shout out for coaching Colliers Green to VICTORY and thank our supporters too.
Jake Addis (Captain)
CG Team:
Henry M
Henry W
Ben B
Ben L
Jake A
Josh R
Gabriel O
Will B