Rawlinson Run Race Report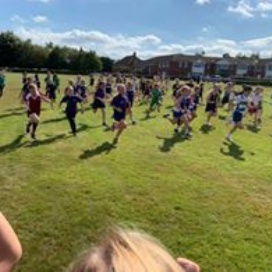 Well done to our eleven, brilliant runners who represented Colliers Green at the Rawlinson Run on Friday. I could not have been prouder about the way they all ran, they all had such a positive attitude and showed a wonderful team spirit in their support of each other. They were the only school who had a high five line up at the finish and watching them cheering their team mates with a high five summed up the whole event. It was a hot afternoon and the distances were challenging - but they rose to the challenge and we had some great results. Special mention to Sophie Rivers who finished 8th out of about 90, and Oran Lott who charged in at 10th in a similar number of runners. But well done to them all - Charlie Edwards, Jack Fry, Florence Martin, Esther Leah, Max FitzGerald, Eva Jarrett, Calypso-Rose Gibbs, Emily Stirling and Jamie Cheal.
Becky Addis
The staff and parents would also like to extend a HUGE thank you to the wonderful Mrs Addis who organised and encouraged the children so well at the event. We feel very lucky to have been injected by her enthusiasm for exercise and running in particular. The morning running sessions are having such a positive impact both mentally and physically on the children.