Netball triumph!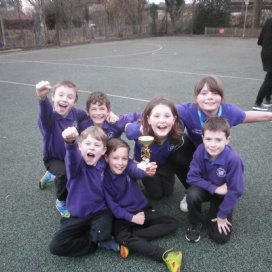 The Colliers Green winning streak continues!
There were great scenes at Brenchley and Matfield Primary earlier today as the CG netball overcame a team of very skilled opponents to win the Premier Sports trophy.
Having got progressively better throughout their matches (lost the first; drew the second; won the third) the CG team found themselves in the final playoff against the hosts. It made for tense viewing, as under 'golden goal' rules, the first team to score, would win. However, after some near misses at the Brenchley end, the children rallied brilliantly to set up at fantastic winning goal by Bee!
Huge well done to the children that took part - you did us very proud with your competitive spirit and sporting behaviour. As ever, thank you so much to the parents that were able to help transport and to everyone that was there to cheer us on.