CG=YV@O2!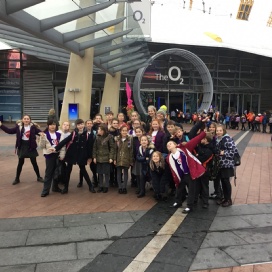 The Choir broke records today when they sang as part of the largest ever children's choir.
8686 children sang as one in a truly memorable concert. Songs included an American Folk Odyssey, a Melody themed on days of the week that incorporated the Bangles, The Cure and David Bowie and a rainbow-lit-rendition of 'Any Dream will Do' to celebrate the 50th anniversary of Joseph and his Technicolour Dream Coat. The children then accompanied Tony Hadley of Spandau Ballet fame as well as Sharlene Hector (Basement Jaxx) and Beau Dermott (Britain's Got Talent). The dance group, Urban Strides, got EVERYONE on their feet for a boogie to some eighties classics and the Pop Medley had us belting out hits by Coldplay, Kylie and Kim Wilde.
The evening was brought to a show-stopping conclusion with a Greatest Showman Medley which gave the choir goose-bumps.....It truly was the GREATEST SHOW!
Congratulations to all the children in the choir for learning the words and making memories and thanks to Mrs B for all her hard work in preparing the choir for this wonderful opportunity to perform at the O2! Thanks to all those who came to watch and to those who assisted us on our journey to the stadium. Finally, a special thank you to Mrs Kemp and Mrs Moorhouse for all your support and some sensational dance moves to boot!!!