Christmas Card Workshop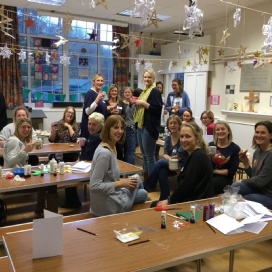 What a fun, festive afternoon! The school was full of smiles, super creative parents and more than a sprinkling of glitter and sparkle!
Yes! Colliers Green's annual Christmas card workshop was a roaring success! Mummys, Daddys and Grannys came together to create a memorable afternoon of crafty creations. The children learnt new skills: there was threading, measuring, cutting, pasting combined with collaboration, concentration and a huge dollop of creativity! This year's designs are going to make their recipients feel very special this Christmas. A HUGE thank you to those volunteers who put so much thought and effort in to creating a very special afternoon: you are true Christmas stars and we are very lucky to have such a special supportive community. Click here to link to the gallery.