Art, Crafts & Neighbourhood Concert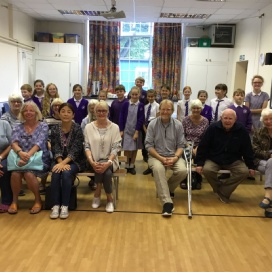 Wow What a day! We started with an assembly where we formally unveiled the 3 beautiful images that have been created to represent our Values by the talented Stef Potts.... they are fabulous.
Following that it got busy, busy, BUSY!! This morning a medley of mummies, staff and a granny who is very nifty with a needle ran 22 workshops for the children. There was sewing, weaving, photography, lino-printing, junk-modelling, card-making, jewellery making, collage, abstract art and a host of other crafty activities. All the activities were in someway linked to our values and many will be for sale at our art exhibition and craft fair tomorrow afternoon.
In the afternoon, we had invited our neighbours to a concert and tea-party. The Year 6 led the concert with confidence and charisma and the whole school sang 3 songs with real passion and pizz-azz. Year 6 then served teas and coffees and the jam-tarts and fairy cakes that had been made the previous day.
The feedback from our neighbours about the children was effusive. The children really made it an afternoon to remember for their local community.