Term 5 - Week 4 - New visitors!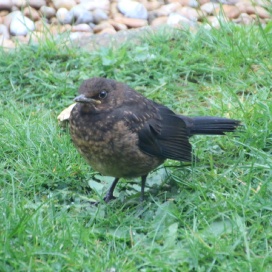 Hello, Class 3!
I hope you have all had a lovely week, even with the rain! I have thoroughly enjoyed reading and listening to your limericks, I hope you enjoyed creating and performing them!
It has been another busy week, how is it week four already!? Although the sun has decided to hide behind lots of clouds it is lovely to hear the rain, one of my favourite sounds. This week I have tried to take photos of the birds that visit my garden. There have been a few fledgling blackbirds coming to visit, as well as a very cheeky squirrel!
Have you been practising anything or tried anything new this week?
Thank you again for your lovely emails and comments.
I hope you have a lovely weekend and I look forward to hearing from you next week!
Miss E Potts :)