Rowan Group - Session 3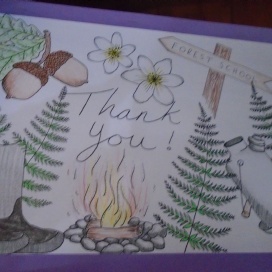 A soggy farewell for now and a huge 'THANK YOU' from Bracken.
Despite heavy rain today, Catkin and her fire crew managed to get a roaring camp fire going so that we could cook both sweet and savoury dampers. We used Spelt flour which was widely grown in Roman times. Legend has it that the Roman army called it their 'marching grain'. As a special treat we also toasted marshmallows to make s'mores.
Many of the children worked together to create their 'Forest Village' whilst others taught each other weaving skills learnt at Art Club the previous day. It was lovely to see all the children working so well together and supporting one another.
Click here to see a few photos from this week. (We were trying to keep the camera dry so not so many pictures this week.)
This was my final 'official' Forest School session and I could not have been luckier than to spend it with the amazing children from Rowan Group. They really have been a delight to work with. At the end of the session, I was presented with the most beautiful Thank You card-show above. This was drawn by the very talented Miss Potts and contained lovely messages from all the children in Class 3. Catkin also treated us to some delicious cakes so thank you so much to everybody for a very special Forest School send off .... I will definitely be coming back to visit Rowan Group when they are in the woods later on!