Rowan Group-Session 2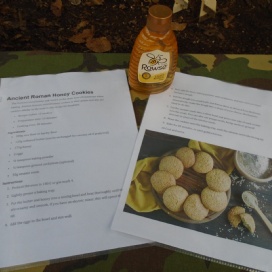 The children have been learning about the Romans in school so this week we experimented with a Roman inspired recipe.
The Romans loved honey and used it as the main form of sweetener when baking. They would often serve honey cookies to their guests and also ate cookies similar to the ones we made in the woods for breakfast. We all agreed that they were delicious even if they did not look quite like the ones in the picture above!
Great team work from everybody meant that all the children had a fantastic time in the woods. Some children used tools to create elder jewellery, others enjoyed den building and all helped with the many jobs necessary to ensure we had a successful time in the woods: firewood gathering, fire lighting, preparing the hot water for our drinks, baking, washing up, clearing away at the end and carrying equipment back to school. Well done Rowan group.