Session 8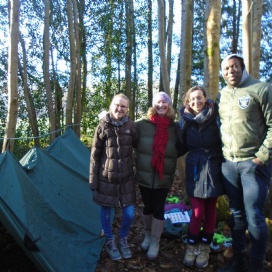 Forest fun with the parents!
Thank you so much to all the parents who were able to come to the woods this week and for joining in so enthusiastically with the activities! Excellent fire lighting, shelter building and log splitting by everybody-well done. (I apologise for some rather dubious scoring of your efforts by the children-I think bias was very much in evidence!) For those parents unable to attend, please don't worry as your children were a credit to you.
Once the parents had gone, the children enjoyed lunch around the camp fire and some final fun and games in the forest.
Please click here to see pictures from this week. I am sorry we didn't manage to capture more of the parents antics this week!