Holly Group-Session 5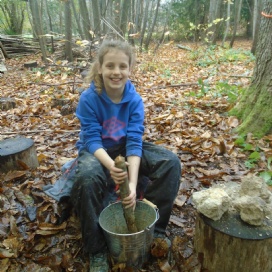 After our soggy week, the children were thrilled to discover that we now had some additional protection from the rain. This took the form of a beautiful parachute donated by Squirrel. Holly Group wondered how it had been erected- lots of problem-solving from the adults was the answer!
Knife skills were practised in preparation for our much anticipated s'mores next week (our final session before Christmas). Children harvested hazel, a non-toxic wood, and learnt how to use knives safely to whittle their stem into a fine point to create a toasting fork.
With Christmas approaching fast, many of the children had fun with a variety of crafts this week. Some of you may be lucky enough to be on the receiving end of one of their creations. Unfortunately, the clay items are not easily moved, but you can view them by clicking the link below.