Holly Group- Session 3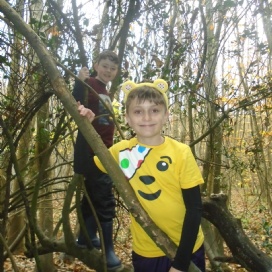 Work continued at great speed in order to produce more pinecone fire starters to sell at the Autumn Fair. All children were involved in attaching wicks to the pine cones and some different techniques were tried when adding the scented wax. Lots of excellent problem solving-especially from Squirrel and Catkin!
Other skills practised this week included specialised knots for attaching ridge lines when setting up shelters with tarpaulins and more detailed fungi identification using a field guide. Clay was discovered by one group of children, and they are hoping to use this next week for some creative activities. Sadly, our paper mache activity involving leaves instead of paper didn't work very well, but we had a lot of sticky fun trying!
The camp fire was essential today for all our activities. It was used for wax melting, boiling water for our hot chocolate and cooking popcorn. We were very well-fed this week!
Click here to see photos from this week.