Holly Group- Session 1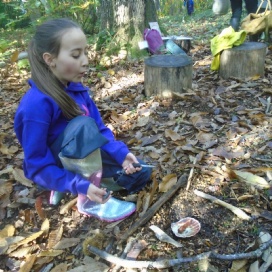 Holly Group returned to the woods and re-visited some old skills as well as trying out some new activities. This time we are based in Sweet Chestnut camp.
Some children were introduced to tree felling using a bow saw. The trunk was then sawn into lengths before splitting to add to our firewood store. Great trust and teamwork were in evidence as the children learnt how to use a billhook to safely cleave the sweet chestnut that we had felled. With the colder weather arriving, Holly Group also decided that it was worth practising some fire lighting skills! These were put to good use to get the Kelly Kettle going for a welcome hot drink at snack time.
Many of the children returned to their favourite activity of den building and everybody helped to gather pine cones. You will have to wait and see what we are planning to do with these!