Session 6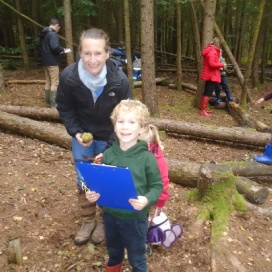 We were delighted to welcome some parents into the woods today.
The children had a wonderful time helping the grown-ups as they explored the woodland on a treasure hunt before taking part in a big game of '1,2,3, where are you?' Sweet chestnut group shared the location of some of their favourite hiding places but not necessarily their best ones- they remain top secret!
Before too long it was time for the parents to leave so for the remainder of the morning the children enjoyed a variety of different activities. In the tool area hollowed out elder stems were used to make necklaces and bug hotels whilst horse chestnuts were turned into a variety of woodland animals. Squirrel helped children practise their fire striking skills and the group also enjoyed playing on the Sneezy Dragon's Trim Trail for one last time...well until they come again next year.
It has been a pleasure to work with this group, and I'm sure they will continue to gain much from their future Forest School sessions. I would also like to say a huge thank you to the parents who were able to join us for today's session and for joining in so enthusiastically. It was lovely to have you with us.