Session 5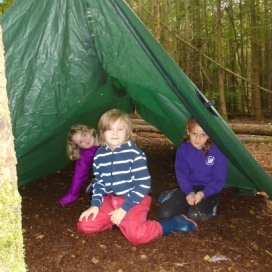 Popcorn, dinosaurs and shelter building!
It has been wonderful to see how the children are enjoying their time in the woods in so many different ways.
The morning began with everybody working together to collect firewood and marvelling at the glistening spiders' webs. These hung from branches and were even discovered on the woodland floor by our expert nature detectives. Sweet chestnuts were gathered, but none were found to contain nuts large enough to be roasted. Instead, these were used to create some 'natural art'.
Dinosaurs were also much in evidence this week as a group of children decided to make dinosaur puppets in the craft area. They then entertained us with a very special 'dinosaur show' whilst we enjoyed our popcorn around the camp fire. This was ably cooked for us by Squirrel with the help of some children who have persevered to master the art of fire lighting using a flint and steel.
Another group of children decided to have a go at putting up a shelter. It was fantastic to see their resilience as they worked hard to refine and improve their final shelter.
I'm sure you will agree that they have all been very busy bees. We look forward to welcoming parents into the woods next week for our final session.
Click here to see pictures from this week.