Session 4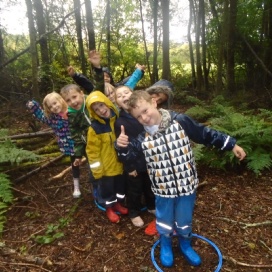 'Crossing the Swamp', Hide and Seek, den building and craft activities meant that we hardly noticed the rain showers this week!
The children had great fun trying to navigate their way across a 'swamp'. With limited equipment they had to work together to ensure that all members of their team made it across to the other side without falling in! This was followed by a game of '1,2,3-Where are you?' (Hide and seek) before the children set off to follow their own activities. Luckily, some children chose to help Squirrel boil water in the Kelly Kettle so that we were able to enjoy hot chocolate or squash at snack time to warm us up after the rain showers.
Click here to see pictures from this session. You will notice that some children got very 'crafty' with leaves.