Session 2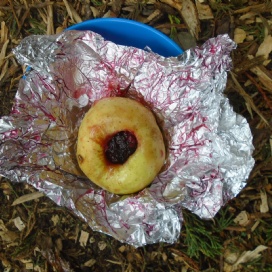 Apples from the school orchard, blackberries from the woods and a special fire steel left for us by the Sneezy Dragon enabled us to cook up a tasty treat over a camp fire today!
All the children set to work immediately to gather firewood and a small group then worked with Squirrel to get the fire going. Before long, they had made a fire with gently glowing embers-perfect for baking our apples on.
Meanwhile, everybody had a go at preparing their apples. They learnt how to use a corer and then had great fun stuffing the empty hole with as many layers of blackberries and sugar as possible. We had lots of sticky fingers by the end of the session!
The children had requested den building materials for this week, so they were given ropes, para cord and a large tarpaulin and set the challenge of working together as a team to establish their very own camp. As the adults were all busy supervising the fire and apple preparation they had very little help with this task, so we were all very impressed by their ingenious methods, problem-solving and how they came together to help each other.
Click here to see pictures from this week.
I'm sure you will agree that they deserved their delicious treat. They certainly seemed to enjoy the baked apples.
Next week I will be away on the residential trip with Class 4, so the children will be working with Foxglove and their Year 1 classmates. I look forward to hearing about what they have got up to.