Session 1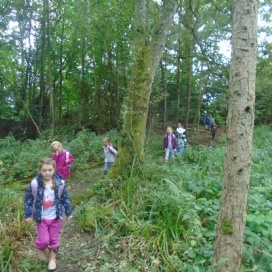 Sweet Chestnut Group were delighted to return to the woods. This time they are based in Larch Camp and spent the first part of the session exploring their new woodland home.
Back at the fire circle we experienced a sudden cloudburst. The children hastily put their waterproofs on and had fun trying to collect rain drops in their mouths! We then discovered a mystery letter. Eventually, we worked out that it was from the Sneezy Dragon. He invited the children to play on his new trim trail and set them a challenge of collecting blackberries. The children proved to be excellent at helping one another balance along the tree trunks and take turns on the swing. They also worked well together to collect many juicy blackberries. I have taken these home to freeze, and we will use them next week for our cooking activity around the campfire.
After our snack, the children had free learning time. Many chose to continue to collect blackberries and displayed great determination in reaching those hardest to pick (but also the juiciest!). Other children had great fun problem-solving as they worked out how to construct a bridge across a large ditch in the woods.
It was wonderful to be back in the woods with this super group of children. Next week we hope to have a fire and use our blackberries to cook something delicious!