Rain (& wind) did NOT halt play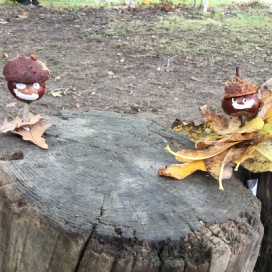 Some say that the number 13 is an unlucky number and when we first looked at today's weather forecast. We felt a little bit unlucky. Having talked about why it wasn't safe to go to the woods in high winds. We then talked about the job of a meteorologist and found out that it contains 13 letters! Which is lucky because their forecasts can help to keep us safer. We were also very lucky because although we couldn't go to the woods the school has a fabulous big field and the Speckled Woods are professionals at having fun!!
We also led two craft activities for the children - conker characters and acorn mice...which one creative member of our group morphed into an acorn Gruffalo.
The morning was finished by showing the children Bluebell's trail camera which is going to be set up in Stump Central to see what comes to visit when we are not there. We played a game of I see through my trail cam's eye...adults versus children.....which involved the children having to ask sensible questions to deduce what animal the adults were thinking of. The children asked some excellent questions which resulted in them WINNING 2-0!!!!
Here's the link to this week's gallery /gallery/?pid=61&gcatid=29&albumid=1199