Charcoal, chocolate nests & Degg's Village - a hive of industry & creativity!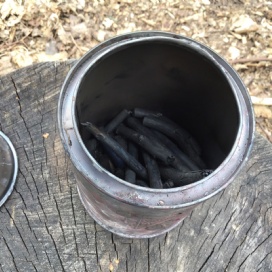 On Earth Day 2022, the sun shone as Rowan Group skipped bag into the woods keen to rediscover the woodland village they had been making back in February. Luckily, Storm Eunice & Year 3 had not caused too much damage to it!
Colliers Green got its name from its charcoal industry and the children had also had been using charcoal in their art lessons. It seemed like a good idea to discover a bit more about the process and make some of our own.....using a Golden Syrup tin. We put the syrup to good use and (serenaded by bird song) also made chocolatey nests!

The self-led learning in creating the village involved- negotiation, problem-solving, trial and improvement, resilience, creativity and huge amounts of communication and fun....it was a joy to observe.
When we all gathered around the fire we discussed the history, production process and wide-ranging uses of charcoal. As we handed around the pieces we marvelled at the stunning peacock blue colour that some pieces had turned.
Did you know:
1. Charcoal is made from burning organic material such as wood with a minimal amount of oxygen.
2. The benefits of charcoal for medicinal and filtration purposes was first discovered by the Egyptians.
3.NASA use it to polish reflective metal surfaces.
Next week we will make pencil 'housing' for our charcoal out of elder.