Orange Tips, Cloud Bursts & Blackberries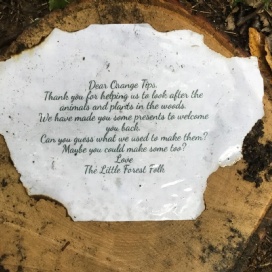 Orange Tips arrived in glorious sunshine and were feeling slightly steamy inside their waterproofs. They were glad to have them 20 minutes later when the heavens opened!
We reviewed our boundaries - the 'rules' that help to keep ourselves, each other and the environment safe. I was very impressed by how many they had remembered. We read a poem about brambles and then did a senses activity with blackberries.
We are leaving the majority of the blackberries in our area if the wood for the animals to eat but some children did take up the challenge to use a few to make blackberry paint and create some expressive designs! Some children also made hazelnut mice.
During snack time we discussed the things we would like to do in the coming weeks. The children mentioned- discovering how things grow in the woods, making more paint, finding magical things and making things with sticks. I can't wait!