Welcome to the Woods Sweet Chestnuts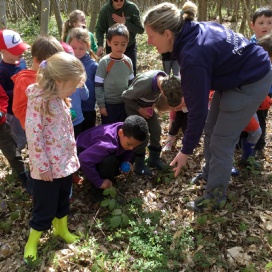 The Sweet Chestnuts had to wait longer than most for their Forest School journey to begin due to Covid restrictions. However, they couldn't have picked a better day to start. The sun was shining, the birds were singing and the leaf canopy glistened above our heads.
We began our session with some 'together time'. The Forest School grown ups were introduced - Bumblebee, Catkin and me - Foxglove (although they all seem intent on calling me Mrs Foxglove)! The children listened beautifully to the Forest School 'boundaries' that have been compiled over time to ensure we keep ourselves, each other and the animals and plants of the woodland safe.
The children learnt about the tablecloth and how we manoeuvre around the fire circle. We then set off on an adventure around the woods finding numbered balls along the way. As we went we had to adapt the game as some children were frustrated not to be first. One of our Sweet Chestnuts decided that patience should be rewarded and this led to a much less frenetic journey and the children beginning to look a little longer at what was around them and properly take in their surroundings.
Back at the fire circle the children were set a 'treasure hunt' challenge and then had free learning time in which they were free to play, wonder, discover and explore. We finished the session with a snack, a story and the opportunity for the group to share the things they would like to do over the next few weeks.