School of Spring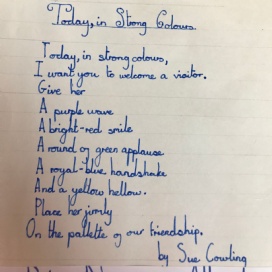 Another week of wall to wall sunshine! The current situation is undeniably strange: sometimes it might make you feel sad or worried, sometimes it might make you feel cross or confused but, hopefully, you have been able to find solace and joy in time with your family under heart-warming sunshine during, arguably, the most exciting season of the year.
Like you, the pupils at 'The School of Foxglove' have had their first full week back 'at school'. We have found it is easier to focus with an element of routine; regular breaks to let off steam; making the most of our '1 hour of exercise' to see the world beyond the front door and connect with nature. My two are missing their friends lots as I am sure you are too so, hopefully, this blog can act as another way of connecting with your CG friends by sharing with you what some of #TeamCG@Home have been up to along with some ideas from me for things that might tickle your fancy for the week ahead. If you would like to contribute you can do one of the following: comment below, post on the school's facebook site or email me with content or suggestions for next week's blog.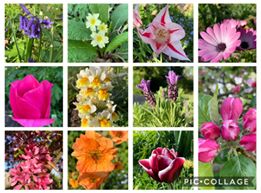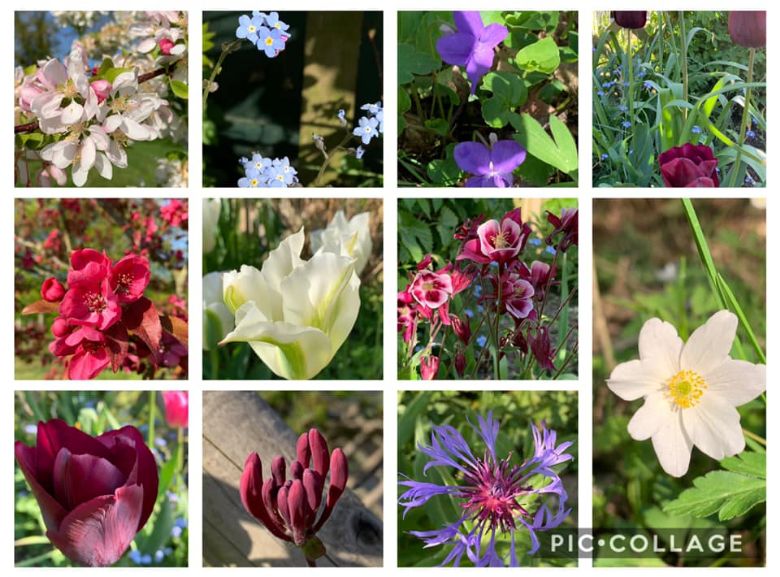 Emily has been observing and recording all the beautiful blooms both in her garden and whilst walking her dogs in the local countryside. How many can YOU recognise?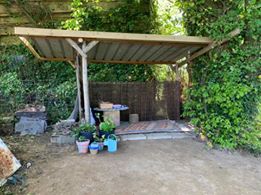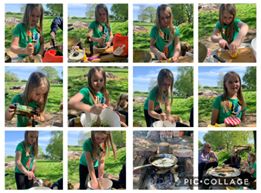 Not content with being a flower detective she has also been building the incredible 'Em's Den' with her daddy and making nettle pesto and flatbreads over the campfire with a little help from her mummy and big sister. After all that hard work, what better way to celebrate than with a mug of hot choc?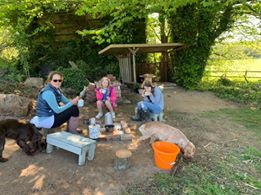 She's not the only member of #TeamCG@Home who has been enjoying the simple pleasures of cooking over an open fire. Oh help! Oh no! It's the Gruffalo...Don't worry, it's only Alex and a VERY big marshmallow. Judging by your face Alex, that was a really fun evening!
Henry and his family have been busy bees.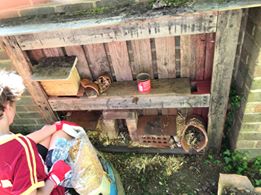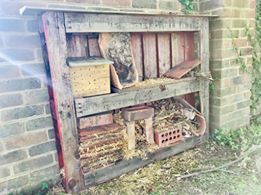 They have been making a bug hotel out of an old pallet. It's not quite finished yet but they are using their daily walks to 'shop' for must have nature's bug furniture such as pine-cones. I'm sure it will be getting 5 star ratings on TripAdviser in no time! What bugs do you think might check in? What 'furnishings and decoration' can you see?
They've also spotted some slow worms in their one was 12 inches long (can you work that out in cm Class 4)?? I don't know enough about slow worms and I have only seen one fleetingly. Henry's mummy has just told me that slow worms are members of the lizard family.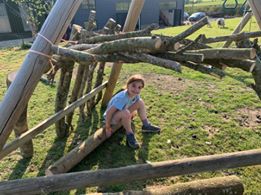 Eva and her daddy spent an afternoon chopping up a fallen tree on the farm. She then put the wood to good use by making a wonderful den in her garden. Great salvaging and what a wonderful place to chill out after all that hard work, I would like to curl up with a mug of ovaltine & a biscuit and my book in there!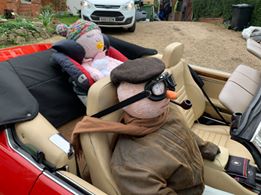 And the creativity doesn't stop there....Check out Sam & Belle's entries in their hamlet's scarecrow festival!! What a wonderful way of bringing a community together and giving families a shared goal. Luckily, the baby in the back does give a stuff that she's being driven around by a bit of a dummy (sorry, terrible puns)!!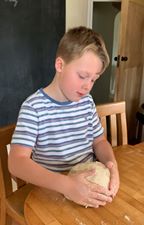 And the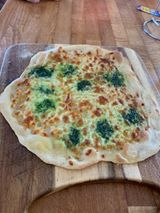 n their creativity moved to the kitchen where they made homemade garlic bread with wild garlic butter and pesto. Sam loved it although Belle is yet to be convinced by the pesto!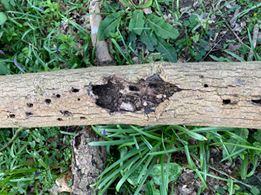 They also have a question for their friends whilst out and about looking for signs of wildlife they came across this piece of wood....
What animal do you think has made these marking?
Meanwhile, Cody went behind the lens and took photos around the farm.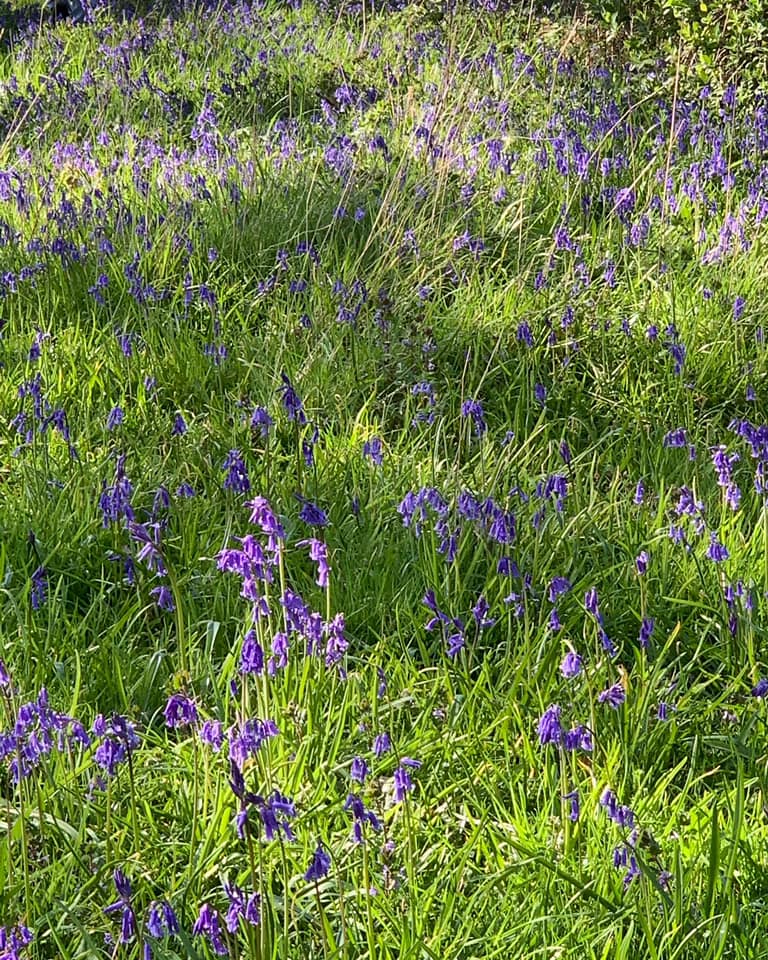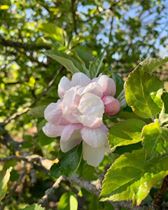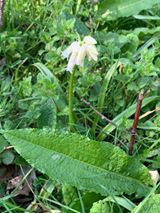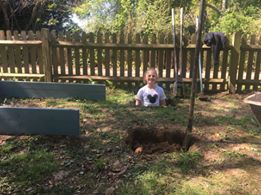 And finally we have Calypso......Her daddy asked her to help him dig some holes in the garden but.....forgot to tell her to stop!!! This picture really made me giggle, she reminds me of an inquisitive little meerkat peeking up from it's home or one of those cheeky little dogs in cartoons sho hides all their bones around the garden!
So after all those lovely shares from #TeamCG@Home, I'm going to share a few ideas of things you might like to try this week.
Take a picture of a cool tree Maybe it reminds you of something else; maybe it's the place you love to go to have some 'me time'; maybe you've built a treehouse in it; maybe it's the tree you just have to climb when you go on a walk. What type of tree is it? Can you work out roughly how old it is? Do you know how to do that?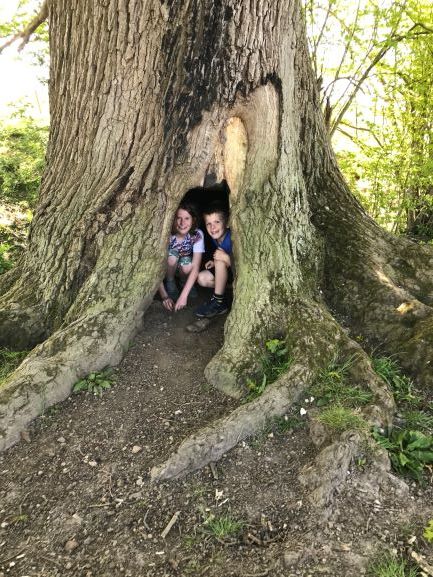 My two Mini-Bees love trees and here is a new (well very old) one they have added to their list of favourites this weekend. They watched 'Christopher Robin' for Friday Film & Feast Fun and this tree reminded them of Winnie the Pooh's house. Next to a stream, My daughter reckons there's no reason why she couldn't move in!
Why not share a picture of your favourite tree and tell us a bit about your reasons why it holds a place in your heart!
Swat up on flora & fauna One of my children's lovely teachers reminded me of the brilliance of the 'Seek' app this week. I hadn't used it for ages but we have had a lot of fun with it this week. Hold the screen up to any living thing - plant or animal and it will classify it for you - I love how it gradually works through the scientific classification system - kingdom, phylum, class, order, family, genus and then SPECIES. My son used it to prove his sister wrong and show her there was such a thing as a pink wild bluebell...unfortunately he was proved wrong, it was an early purple orchid!!! However, it was a fantastic real life, ad-hoc science investigation as to why he had thought it was a bluebell (the similarities) and why he now realised it wasn't (the differences). I LOVE it!!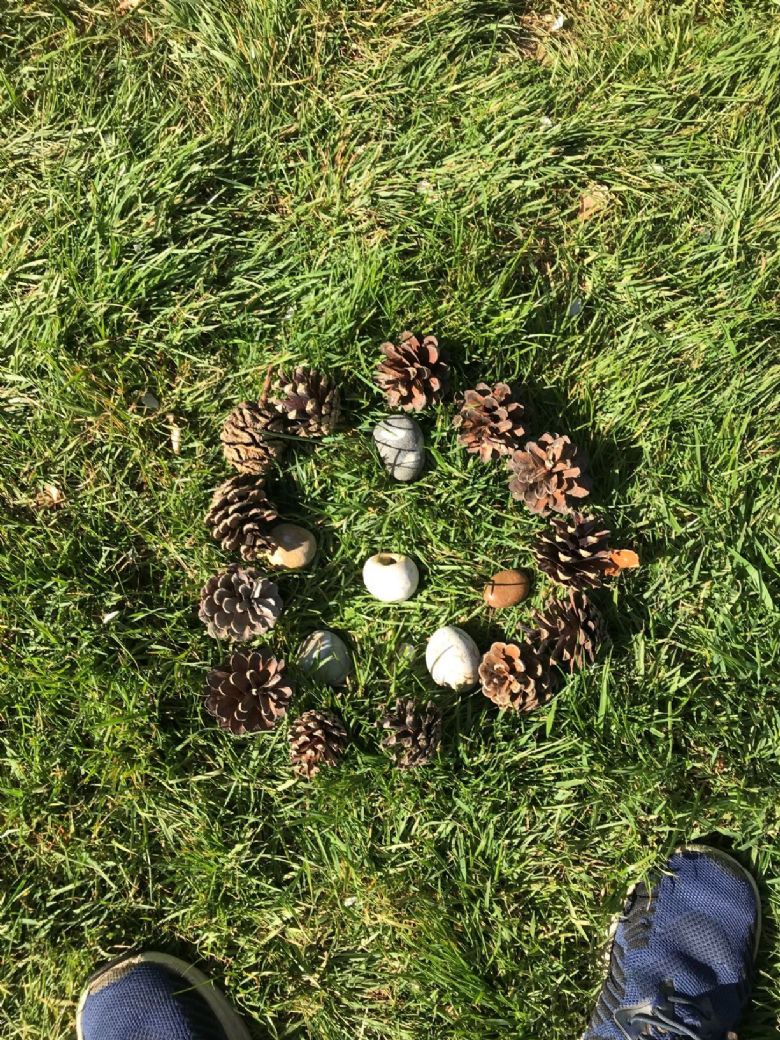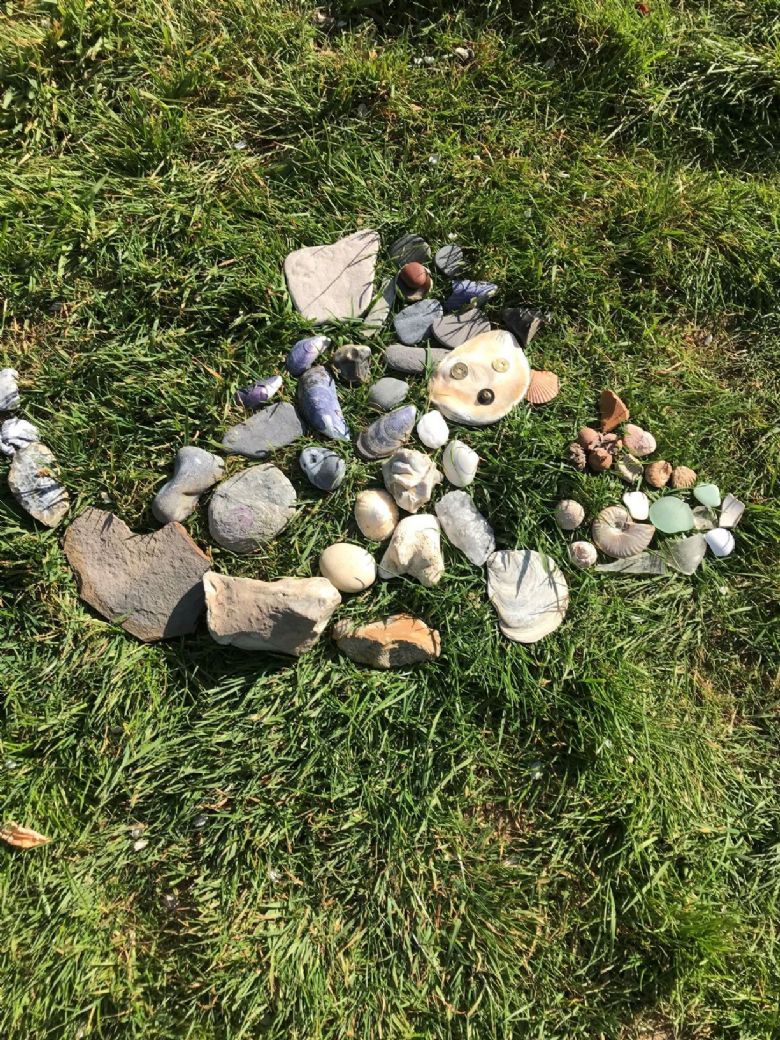 Bird's Eye View I showed the mini-bees a clip of Big Art from Art Attack . The children decided they would have a go using stuff from their nature collection. My son spent about 3 minutes making a football then spent about 10 minutes looking for the real football that he had previously booted into a bush so that he could play football!!! My daughter, got really into it - she started with the idea of a mouse made out of pebbles but as it developed she amended her ideas and made a dog with a bowl. She then stood on a stool and took a picture. I love the expression on his face.
The School of Spring You are experiencing so many new ways of teaching and learning at the moment. I have heard lots of fabulous reports of parents, grand-parents, aunts, uncles and cousins sharing and teaching you skills. This is also a fabulous opportunity to learn in different ways and in different places. I'd love to hear more about the people you've been learning with and the places you've been learning. But I'd like to leave you with three 'thunks' -a little (but really rather big) question to really get you thinking - for you to ponder....
Does a teacher have to be a person?
What type of teacher is Nature?
What can you learn from her?
There are no right or wrong answers if you back your answers with your reasoning.
Stay safe, be kind and keep in touch. Bracken and I miss you and we love hearing from you. You can message me in the comments below or via our private Facebook Group or by email ibarstow@colliers-green.kent.sch.uk
Each afternoon we take it in turns to choose an activity so there is always something to look forward to as a reward for all their hard work in the morning.
No comments have been left yet.