Forest School....except at home!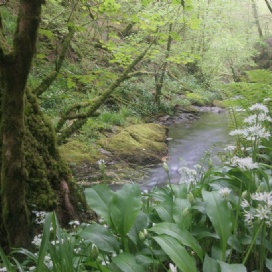 We've tried to find the balance between 'school at home' and having fun this week. There have been successes and failures...below I've focused on some of the positives that are linked to 'Forest School Style Fun'.
Please add your comments below or add your photos under the link to this blog on Facebook. I would love to hear what you have been up to. We miss you very much and hope that you and your families are keeping safe and well.
Pungent pesto! On one of our local woodland walks, we were overcome by the strong scent of garlic. By the side of the stream we found lots and lots of wild garlic (identifiable by its glossy spear shaped leaves and unmistakable smell and the little white flowers are just starting to bud). We collected a couple of pocketfuls to take home. My daughter then made a delicious wild garlic pesto. Click here to follow the link to the recipe that we used but there are many variations on the internet). If you can't get your hands on wild garlic then why not try young nettle leaves - don't forget to wear gloves to protect yourself from their 'sting' or if you have some fresh basil you could use these. For those of you interested in broadening your 'leaf vocabulary', I've attached a terminology sheet below.
Obstacle Olympics The Olympics may have been postponed but that's no reason not to set yourself an athletic challenge! My son devised a garden obstacle course for the rest of us to complete. He planned it, trialled it, wrote instructions then timed us and then adapted it to make bits easier/add new challenges. If you don't have a garden think of a medley of challenges you could do on a walk or a circuit of high energy activities you could do in your house.
Spring Sketches & Verse Whilst us humans are having to significantly adapt our lifestyle, Mother Nature is still doing her miraculous seasonal transformation. Spring flowers are adding colour to hedgerows and carpets of bluebell leaves have emerged in the woods and shadier parts of our lane all with the exciting promise of a sapphire symphony in the weeks to come. Lambs are frolicking in the fields and the lighter mornings are full of joyful birdsong . Why not take a sketch book with you or write a poem about your observations - you could include the smells, sights, sounds you noticed. I know we talk about it lots at Forest School but a gentle reminder to look and listen but not to interfere with our wonderful wildlife.
Budding Detectives During winter we have relied on the shape of trees, the way they grow from the ground and their general shape in order to identify them. Now it is spring, new clues have started to appear in the shape of buds - I have attached a bud identification sheet. How many of them can you find? You may want to partner the bud clues with your knowledge of tree bark in order to strengthen your conclusions. Which ones have started to flower already?
Kahoot! My daughter has made a Kahoot.comKahoot for you to try - Log on to Kahoot.com and search Wonderful Wealden Woods to test your knowledge of woodland flora and fauna!!
During the holidays.....
This week my children are keen to light a fire in the firepit to cook damper bread for supper. In order to do this they will need to: mix the recipe - I have attached Bracken's Brilliant Damper Bread recipe; collect suitable kindling on a walk (Mr B had a bonfire last weekend and our garden is bereft of good deadwood); - harvest and whittle toasting sticks - if you want to do this, choose a wood low in toxins, we are using hazel - this should only be done under careful adult supervision - if your child has not done knife safety with us at Forest School then you may be better off doing this with them; (If you do not want to twirl these around a stick, they cook very well as 'patties in a pan'. Simply form the dough into rounds and flatten before placing into a lightly oiled frying pan.) sorting their resources into fuel (big bits of wood) kindling (finger thin bits of wood) and tinder (light, fluffy and extremely dry bits of wood or cotton wool; managing the fire safely following sensible safety measures and finally making sure they make enough so that their mummy can have one too - I have my fingers crossed that I'll be able to get my hands on some Philadelphia before then!! Please can I reiterate that the following activity does need close adult supervision as it involves sharp tools and fire.
Mr B makes a delicious nettle soup so this year the children are going to learn his recipe and cook it with him. If he divulges his 'secret recipe' I'll post it after Easter!!!
My daughter and I have started to make these papier mache eggs using flour and water as the paste. I look forward to showing you what ours look like after Easter.
We are going to be doing lots of gardening - we've got a mixture of vegetable and flower seeds, corms and bulbs.
We'll also be going on many more walks to exercise our dog Jumble - I've included one of my favourite photos of him below taken during a camping trip to Devon last summer.
We might try out some of Bear Grylls' indoor isolation challenges that he has compiled with the Scouts.
My daughter was given a Kelly Kettle for her birthday so we are going to make hot chocolate and herbal teas by boiling water using it.
Finally, we want to try out the pyrography pen I was given for my birthday. Hopefully, I'll be adding some photographs of the outcomes after the holidays
Wow! That was quite a long first post!!!