Now is the time ... to plant trees!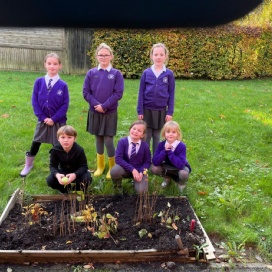 Members of the Green Team made a start on planting some of the trees that we have received from The Woodland Trust. They have been temporarily 'heeled in' in our vegetable patch, and we will be planting them over the next few weeks to boost our existing hedges as well as planting around our developing wildlife area.
We chose trees that will provide us with year-round colour. We will be able to enjoy beautiful blossoms, bright berries and stunning autumn displays whilst the local wildlife will gain additional shelter, nesting sites and food!
We have planted hawthorn, dogwood, wild cherry, silver birch, rowan and hazel and are looking forward to watching them grow.
Click here to see pictures of the Green Team in action.