Session 2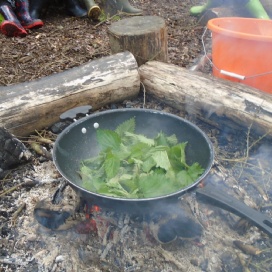 Nettle crisps, popcorn and jewellery making were the chosen activities for today.
The morning began with all the children working together to harvest nettles to make our 'Danger Crisps'! Kitted out with gloves, the children set off to forage for nettles. There were a few stings, but the children showed great resilience and found some dock leaves to rub on any affected areas. Brave volunteers stripped the nettle leaves from their stalks whilst other children helped Squirrel prepare the fire. The nettles were then quickly fried and served up to the children at snack time. Everyone (almost!) agreed that they were very tasty and wanted seconds, and thirds! We also cooked popcorn over the fire, so it really was like a morning at the movies but with real life nature films to watch!
In addition to our cooking activities, some children also found time to start making jewellery from elder. They learnt about wearing a glove on their 'helper hand' and how to use a palm drill safely to hollow out the soft pith from the centre of the elder stems. These sections were threaded on to string to create the beads. We will continue with this activity next week. I wonder if the children will be able to think of anything else that they could create from the hollowed out stems of the elder?
Click here to view the photos from this week.
Next week, weather permitting, we will attempt some more camp fire cooking. I wonder what will be on the menu?!