Session 1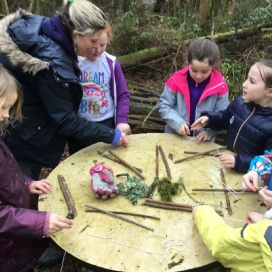 Holly Group were excited to be back in the woods despite the rather gloomy weather. We began by thinking of some of the ways we could embrace our values at Forest School by loving the world, each other and ourselves. The children then spotted an envelope attached to the tree with the message: OPEN....if you dare. They dared!!!
It was a letter from the Sneezy Dragon with some challenge suggestions which some of the children took up on whereas others decided to set their own challenges.
The children who set their own challenge worked collaboratively to 're-open' a mine they had started excavating last year and to build a bridge. It was a super display of community and problem-solving.
The children who took up the Dragon's Dare - learnt to join two sticks together using a clove hitch, square lashing and frapping. We used the story of the fishee on the dishee as a mnemonic. I was delighted to hear one say to the other that "making mistakes was part of the process." The cross formation formed the skeleton for a Lent Mobile made from natural resources found in the woods.
No comments have been left yet.