Session 7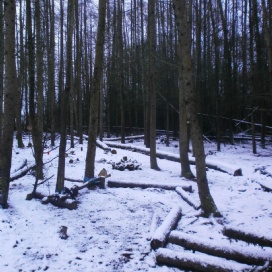 There was great excitement in the forest today as the children raced to discover their woodland world transformed by a gentle dusting of snow. The trees sparkled and glistened in the early morning sun, but it was not long before the steady drip of melting snow made many of our planned activities a little tricky and more uncomfortable than usual!
The children had great fun as they rolled their giant snow balls through the wood to create, 'Terence', the snowman, but gloves quickly became soaking wet and hands were chilled to the bone. It was not possible to use tools this week and lighting the fire and Kelly kettle were more challenging in the freezing, damp conditions. Luckily, our apprentice fire makers have developed their skills during their time at Forest School, and it was not too long before we had boiling water for hot chocolate and glowing embers to cook our next batch of cinnamon and raisin stuffed oranges.
Everybody appreciated being able to wrap their fingers around steaming mugs of hot chocolate and toasting their toes around the dying embers of the fire. Washing up also proved a very popular activity this week as warm water is provided for this task!
Next week, parents of children in Year 6 are invited to attend our final Forest School session. We are hoping that the weather will be kind to us, so that you are able to take part in some of the activities with your children.
Please remember to return the reply slip if you are able to come or send me an email so that we can organise refreshments for you. Thank you.
cmoorhouse@colliers-green.kent.sch.uk
To meet Terence and see our pictures from a beautiful, snowy Degg's wood, please click here.
If you would like to blog about this week's session please leave your comment below.
No comments have been left yet.