Session 6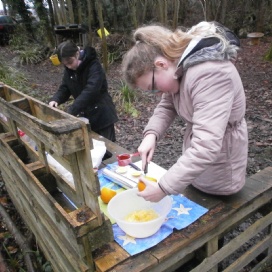 Another cold day meant that the children were keen to keep warm. Many enjoyed creating energetic games that included lots of physical activity and running through the woodland. Others chose to keep warm by preparing a roaring camp fire (and then huddling around it!) whilst another group tried out a new recipe. This involved making delicious cinnamon and raisin rolls. The dough was placed inside a hollowed-out orange, that was then wrapped in foil, and nestled in the hot coals of the fire to cook. The orange was therefore used not only as a flavour, but also as a cooking pot. I think the boys were pleased that this reduced the amount of washing up that they had to do!
Click here to see photos from this week's session.
If you would like to blog about this week's session please leave your comment below.
No comments have been left yet.