Session 5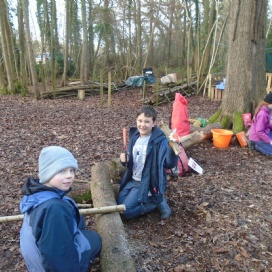 This week the children were given the opportunity to learn how to use a bow saw. Few took up the challenge, but those that did soon 'got into the groove'!
At Forest School the bow saw is normally used by two people working together. Whilst this looks awkward, it helps to develop teamwork, communication skills and trust between members of the group. It is also a safety mechanism. The children work together on the first few cuts to create a groove in the wood which prevents the blade from jumping. Using a steady sawing rhythm, the children cut through the wood using a push-pull motion with each partner saying, 'To me', as they pull the saw towards them. In addition to using the bow saw, the children also used loppers to trim off smaller branches before logging up the main trunk.
The discovery of clay during our last session caused great excitement and this week it was used in all sorts of wondrous ways! Hedgehogs, vases and pots were just some of the amazing items created. It was also used as a means of attaching things together. The toy and games shop, that opened this week, manufactured clay balls that should harden over the coming days and be ready in time for our next session. There are plans to use it to throw at numbered targets to score points!
Den building and charcoal face painting continued to be popular activities although the Community Challenge to re-stack the log pile was not taken up by many! Luckily, those that took up this challenge did an excellent job, so we will be able cook on the camp fire next week - weather permitting. Remember to check in next week to find out about our culinary adventures in the woods!
Click here to see the photos from this week.
If you would like to blog about this week's session please leave your comment below.