Session 4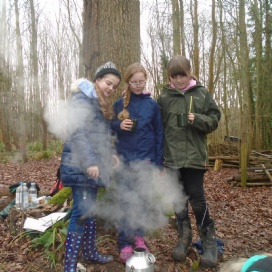 Baked apples, Kelly kettles and creative play!
Baked apples were on the snack menu today, so the first tasks were to get a fire going and prepare the apples. Whilst some children collected firewood another group filled the apples with a delicious mix of raisins, sultanas, sugar and cinnamon. Yummy!
The prospect of hot chocolate was the incentive needed for other children to have a go at learning how to use a Kelly kettle. This is an ingenious device for quickly boiling water in the great outdoors. The group showed great determination to get a fire started and after initial difficulties their efforts were eventually rewarded by the sound of hot, bubbling water coming from the body of the kettle. Hooray-hot drinks for everybody!
Even with all this activity, there was still time for lots of creative play. Special, magical inks were created from secret ingredients and sold from a newly opened woodland shop- and yes , we did have a proper opening ceremony, complete with the cutting of a red ribbon! Unfortunately, many children decided that that this very special ink would make wonderful face paint so apologies if your child came home 'wearing' more of the woodland than usual!
At the end of the session, I was reliably informed that a source of natural clay had been discovered in the woods. Watch this space to discover what the children decide to make/do with it next week.
If you would like to comment on this week's session please remember to send us a blog.
Click here to see the pictures from this week.