Session 3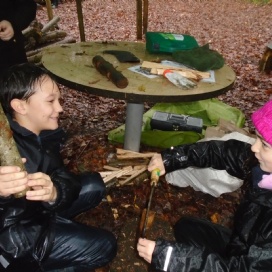 A splashing, smashing time was had by all!
Despite the pouring rain, all the children showed true resilience today as they battled with the elements whilst completing their tasks. Today's challenges included learning how to cleave (split) sweet chestnut with a bill hook to create kindling and how to get a camp fire going – and keep it going- in the driving rain! Luckily, with our superior quality firewood, the problem-solving skills of Birch group and the determination of Catkin, our undisputed 'Fire Queen', it was not long before we had a roaring fire.
The prospect of toasted marshmallows for our smores proved to be a great inducement to those children who were initially reluctant to have a go at using the bill hook to split the sweet chestnut! By the end of the session everybody had succeeded in producing some kindling wood. As illustrated by the photos in the gallery, it can be seen that at Forest School the bill hook is normally used by two people working together. Teamwork, communication skills and a large dollop of trust are therefore essential when using this tool. I am pleased to say that all children returned with the correct number of fingers!
I am so proud of how well everybody worked together and remained positive even when soaking wet (including the adults!). Thank you to every one of you for making what could have been a very miserable session so much fun.
The children had an exciting time splashing around in the streams and wetland areas that appeared in the woodland today but please remember to check their bags for soggy clothes. This was the last Forest School session before we break up for Christmas so there should be plenty of time to get clothes dry and ready for next year. If your child's clothing was not as weather proof as expected, it may be worth adding some wet weather gear to their list for Santa!
Wishing everybody a very Merry Christmas and sending a huge thank you to our parent volunteers who turn up each week with a smile on their faces. We look forward to welcoming Birch group back into the woods in January-maybe we will get to experience Forest School in the snow!
If you would like to comment on today's session, please send us a blog.
Click here to see photos of our soggy time in the woods.