Session 1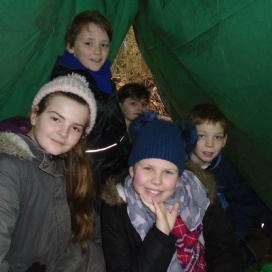 Survival skills- Shelter building
Birch Group were delighted to welcome Fawn, our new parent volunteer, to Degg's Wood. With some great (and some not so great!) acting they introduced her, and reminded themselves, of some of the rules we have in place to:
Look after our woodland environment - linked to our school value of ASPIRATION
Look after ourselves - linked to our school value of RESILIENCE
Look after one another - linked to our school value of COMMUNITY
We then set off on a tour of our camp to help Fawn find her bearings and to discover what had changed since our last visit. On our return, a survival challenge was set. Each group had to erect a weather proof shelter using the tarps. After a quick revision on two key knots, the timber hitch and quick release tension knot, the teams chose a suitable location for their shelter and embarked on the challenge. There was much discussion, negotiation and problem solving as the groups worked together with varying degrees of success and harmony! Being able to put up a shelter quickly is an important skill because this group will be in the woods during the wet and cold winter months. I need to know that I can rely on them to put up a shelter if the weather is inclement – I have already decided whose shelter I will be in on a wet and cold day!
On completion of this challenge (which also involved dismantling their shelter and packing the tarp back into the bag-probably the most difficult part of the challenge!) the group were free to choose their own activities. Some continued with den building or practised fire lighting skills using the flint and steel, others made a start on Christmas decorations whilst others were fantastic at helping with the very necessary jobs of washing up after snack time and helping to shovel woodchips into bags. These have been taken back to school to improve the path to Class 4.
All the children worked very hard and consistently demonstrated our school core values. I am already looking forward to next week when our focus will be on fire and knife skills.
Remember, parents of children in Birch Group are invited to attend our last Forest School session on 8th February. Your children will be demonstrating many of the skills they have learnt with you on that day so please 'save the date' if possible.
Click here to see the photos from this week.
I am hoping that the children will be inspired to use the blog to reflect upon their experiences at Forest School. (House points may be awarded for contributors!) What did they particularly enjoy or feel most proud at having achieved this week? What could they do to improve or build upon their experiences? What would they like to accomplish over the coming weeks?