Session 7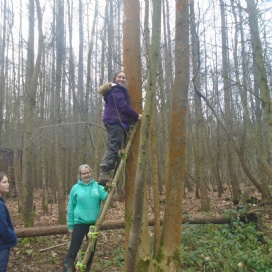 This week saw the completion of our community ladder project. Each group has contributed to the construction of this ladder using their square lashing skills to attach the rungs. This ladder will now be available to help attach higher ridge lines for future den building activities.
Our knife and craft skills were also honed enabling the children to produce some toasting forks for our marshmallows so that we were able to enjoy 's'mores' - our favourite Forest School snack. Craft items produced this week included some delightful buzzy bees, puppets and elder bead necklaces.
Click here to see the photos from this week.
Maybe your children can talk to you about what we did this week using the pictures to remind them about what they got up to. Remember that I am hoping the children will be inspired to use the blog to reflect upon their experiences at Forest School. What did they particularly enjoy or feel most proud at having achieved this week? What could they do to improve or build upon their experiences?
No comments have been left yet.