Session 3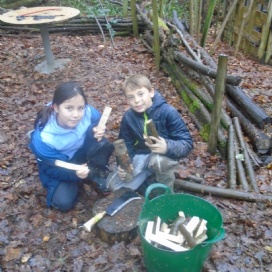 Another busy week in the woods as today's challenge was to learn how to cleave (split) sweet chestnut with a bill hook to create kindling wood. At Forest School the bill hook is normally used by two people working together. Teamwork, communication skills and a lot of trust are therefore essential when using this tool. I am pleased to say that all children returned with the correct number of fingers (although some were rather sticky after making the dampers!).
The savoury dampers were made by adding cheese and herbs to the dough mixture and they proved just as popular as the sweet version. Imagine eating a warm cheese scone around the fire and you may be able to appreciate the taste sensation we all enjoyed!
Click here to see the photos from this week.
I am hoping that the children will be inspired to use the blog to reflect upon their experiences at Forest School. (House points may be awarded for contributors!) What did they particularly enjoy or feel most proud at having achieved this week? What could they do to improve or build upon their experiences? What would they like to accomplish over the coming weeks?