Session 2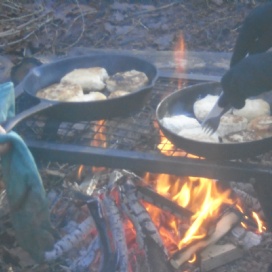 Square lashes, saws and sweet dampers.
This week the children were introduced to square lashing. This is used to join two pieces of wood together at right angles and is therefore very useful for all sorts of construction activities in the woods. Picture frames, lanterns and ladders are just some of the items that can be made using this knot-not forgetting attaching horizontal beams to trees to help in quality den construction! A group of children decided that it would be a good idea to make a ladder (again to help with den construction) so set about cutting some sweet chestnut into lengths to create the rungs. This will be an ongoing project so watch this space to see how they get on.
Many of the children are enthusiastic about campfire cooking so this week dampers were made whilst another group of children prepared the fire. Instead of twisting the dough onto sticks as we have done previously (and then lost them in the flames when they have fallen off!) they were formed into patties and cooked in a frying pan over the fire. These proved to be delicious and tasted like jam doughnuts. Next week we will be trying a savoury version.
Click here to see the photos from this week.
I am hoping that the children will be inspired to use the blog to reflect upon their experiences at Forest School. (House points may be awarded for contributors!) What did they particularly enjoy or feel most proud at having achieved this week? What could they do to improve or build upon their experiences? What would they like to accomplish over the coming weeks?
No comments have been left yet.