Session 8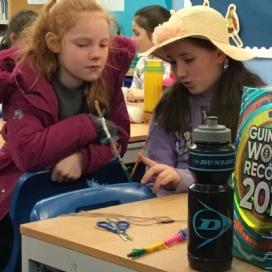 With great reluctance and heavy hearts, Bracken & Foxglove made the call not to go to the woods today. The blustery wind meant that the risks of visiting the woods outweighed the benefits. However, there was still much fun to be had.....
We made a quick trip to the orchard in search of sticks and then returned to the classroom to 'wrap them in memories'. The children could choose colours to symbolism different themes or events in their lives and then set about carefully wrapping their sticks in precious and important memories using different colours and textures of yarn. It was lovely listening to them share with the adults and each other - some memories were private and all the children were respectful of this.
The children were then able to choose from a range of activities: making Scotch pancakes with Catkin & Fawn in the DT department; sprucing up Mr Golding's store and transporting the LARGE amount of salt - a great lesson in capacity!! The children in the classroom chose between making something for the Forest School display to answer the question "What Forest School Means to Me" or took up the challenge of making a Friendship Bracelet in the style that Foxglove learnt as a child - without prompting children who had conquered the skill went on to teach others. It was fascinating to see how they adapted and improved their teaching methods. If you have a picture of your completed bracelet, email it to Foxglove & she will post it in the Gallery.
The session was rounded off with hot chocolate & scotch pancakes and a chance for the groups to share the moments that had meant something to them this season at Forest School. Foxglove & Bracken would LOVE it if the children could write these in the comments below.
Every effort will be made to arrange an additional visit to the woods for Larch & Birch Group in the Summer Term.