Session 7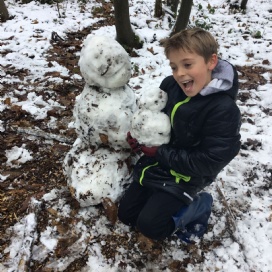 The woods were our very own Winter Wonderland today.
Larch were thrilled to be at Forest School in the snow and were itching to have snow ball fights and build snowmen. After reading the dragon's dare and reminding ourselves of our school values and how they could help us in the woods the majority of the group had a snow ball fight and then spent time fine-tuning the rules of combat!
A few children took up the Dragon's Dare and stayed near camp to bake, boil and brew. The children wanted to make damper bread again and thought that it might be fun to make fruit tea so the challenge was on to get a campfire lit and a Kelly Kettle boiling. We succeeded but unanimously agreed that Gluten Free damper bread was not a winning recipe!
Some of the children did get cold but participated in timed races to get the blood pumping around their systems again.
We all trudged back to school pink of cheek, soggy of glove and ready for lunch. Next week will be our last session of the year. i will be very sad to say goodbye to this group whose community spirit and sense of fun brings a zing to Friday mornings!