Session 3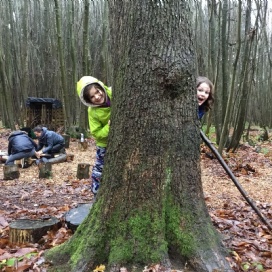 It may have poured with rain for the WHOLE session but this did nothing to dampen Larch Group's joy of being in the woods.
The session started with a couple of rounds of Vanish. Then the group sat down to read Sneezy Dragon's latest challenge. It was fair to say that the weather conditions had conspired against them but Larch Group set to task with stoic determination! Lighting fires when all your fuel and lighting equipment is getting wetter by the second is no easy task and various problem solving techniques were tried with little success. After a good half hour of trying (and a little advice from a couple of members from Silver Birch Group) the fire got going to whoops and cheers.
All this while, an industrious group set to work laying woodchip on the boggy path which proved an excellent way to keep warm if your attire wasn't entirely weather appropriate!
A small group set to work making a home in a holly tree complete with bunk beds. Others helped to prepare the mixture for hot chocolate or break the chocolate up to be melted on the campfire. One child in particular showed grit and determination working with Squirrel in trying to get the Kelly Kettle alight but it simply was NOT playing ball today! First Challenge for 2019 is set!
The group's positivity and hard-work was rewarded with toasted marshmallows dipped in melted Dairy Milk and a delicious mug of hot chocolate which brought a silence to camp as children sat cupping their drinks in their hands: savouring their reward.
As the session grew to a close, I asked the group to think about what challenges they would like to set themselves in the New Year. They were reminded that Forest School is a platform for them to lead their learning experiences so I am looking forward to reading about their "Forest School New Year's Resolutions below!"