Session 1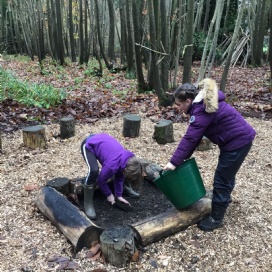 Industry, tenacity and team-work were the order of the day - What a wonderful first session!
We started the session thinking about how we could use our Values in the woods. Here are some of the examples that they came up with:
Aspiration: Loving and looking after our world by not picking living things and taking our litter home with us.
Resilience: Loving and looking after ourselves by keeping our hands out of our pockets when we are moving around the woods so that our hands can protect us if we fall; setting ourselves challenges and giving new things a go.
Community: Loving and looking after each other by considering the physical, mental and emotional needs of each other; sharing and compromising and being aware of the feelings of others.
Then....the group noticed a letter in the fire-pit. It was from the Sneezy Dragon and he had set a challenge.... Dragon's Dare #1....to clear and prepare the Chestnut Camp for fires and cooking. If they succeeded they would be rewarded with marshmallows to dip in melted chocolate next week.
The challenge involved 5 success criteria and the group were not allowed any adult support into how to organise themselves. Whilst there were 3 adults there we could not do anything to support them with the challenge except to keep an eye on their health and safety.
The group set down to work and quickly negotiated who was doing what. It was a hive of industry with the entire group involved in ensuring that the challenge was met. The adults were amazed at how engaged and supportive they were of each other and, as you can see from the photographs, they were able to sit back and enjoy watching the children co-operate, complement and encourage each other. We were all sooo impressed. It would be impossible to single out one person this week because they all shone!
I talked to the group about the blog and how this could help them reflect on their experiences at Forest School and I wait with baited breath to see who the first contributors might be. They may want to share what they felt they achieved; what they noticed about the group dynamic or what their hopes and goals are for our future sessions. Feedback can help ensure that the sessions meet the group's needs and ambitions.
Next week the focus will be fire.
I promised the group a little challenge on the blog. So here it is....
1. What was the name of the wood that we whittled for the toasting forks and why was it particularly suitable for the job? Can you remember the name of the wood that was singled out as not being suitable and why?
2. What are the THREE components that make up the FIRE TRIANGLE that enable a fire to ignite and burn?