Session 8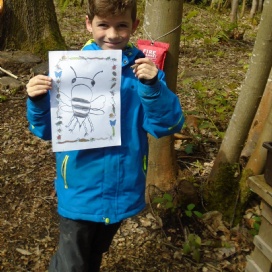 A fond farewell to the woods ... until next year!
The children made the most of their final session in the woods today.
Many chose to make a souvenir to remind them of the special time they have spent in the woods over the last couple of months. Ingenious charcoal pencils were made and then used to draw stunning pictures, marvellous woodland creatures were crafted, and the finishing knife strokes were made to the all-important toasting forks!
A group of children continued to search for mini beasts in the woods and were delighted to discover a brightly coloured Cardinal beetle. Great teamwork was on display throughout this session with children working well to both share resources and carry out the community tasks required so that we could all enjoy our final special treat of smores (toasted marsh mallows sandwiched between TWO biscuits) and hot chocolate.
It has been a pleasure to work with this group of children and all the adults were very touched to receive their beautiful thank you cards so I am now sending a huge THANK YOU to Elder group for being such super stars. As ever, it goes without saying that we owe a massive debt of gratitude to our parent volunteers who come out with us every week, rain or shine. We really couldn't do it without you. Special thanks must also go to Batty (Mrs Brown) who accompanied us every week with great humour and ensured that grammar rules were always adhered to ! Thank you everybody.
If you would like to see photos of your child's final session in the woods, please click here.
If your child would like to blog about their Forest School sessions please submit a comment below.
No comments have been left yet.