Session 7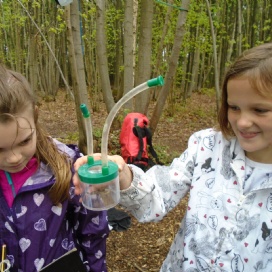 Mini beasts and baked bananas
This week, our Forest School session supported the work that the children are currently studying in class; mini beasts and healthy eating.
Initially the children worked in teams to solve a lateral thinking puzzle. How could they release the mini beast trapped inside the 'wine glass' by only moving two sticks … and be left with an identical wine glass after the two permitted moves? After much discussion, the problem was finally solved. Can you work out what they had to do?
The children spent the rest of the session searching for mini beasts, building bug hotels and creating mini beast themed crafts. Meanwhile, Catkin was busy baking bananas over the camp fire as part of our healthy eating themed 'snack time'. Although these did not look very appetising, most of the children agreed that they were very yummy! Next week is our final session in the woods and we will be enjoying some not so healthy 'smores' as a special treat to end our Forest School activities for this year with Elder group.
Click here to visit the gallery with photos from this week's session.
No comments have been left yet.