Session 6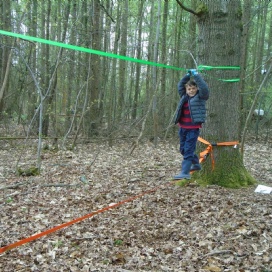 Problem solving ... with a lot of help from our friends!
This week, the woods looked particularly beautiful with the arrival of the spring flowers: patches of bluebells and bursts of primroses and wood anemones greeted us in the early morning sunshine. We learnt a little about the folklore associated with these plants - all I can say is beware of upsetting the bluebell fairies! I fear that somebody may have upset them because we had lots of problems with one of our activities today!
The children had been patiently waiting for the slackline to be set up and I had to confess that I had not had time to do this during the Easter holiday. We therefore decided that we would try and set this up with the children that had worked so hard to find a perfect location and suitable trees to attach it to. Bracken (clasping the instructions in one hand and her glasses in the other), Batty and the children set off with great enthusiasm. The first task was to remove any obstacles that would be in the path of the slackline. This was successfully accomplished by reason of our combined great strength. We were ready to get the slackline out of the box... Unfortunately, the instructions were not that clear and Bracken and Batty were not familiar with ratchet mechanisms. After trying very hard to decipher the instructions we suddenly remembered that Squirrel may be able to help. Luckily, she could. Success! The slackline was attached to the trees and all the children were able to enjoy using it BUT, at the end of the session we had to take the slackline down … Batty and Bracken were confident that as strong, independent, intelligent women they would be able to successfully dismantle the slackline. How wrong they were! Sadly, a minor mistake in the initial setting up of the ratchet line had resulted in the line becoming twisted around itself on the mechanism and despite our best efforts we were unable to untangle it. We had to abandon it and Bracken planned to return in the afternoon with a tool box. However, later that day a true expert came along, Seth Nesfield. Grateful thanks to him for solving our slackline problem!
Meanwhile, other children, who were not involved in trying to help Bracken and Batty, were productively employed in boiling the Kelly Kettle and making the group's hot chocolate or were busy in the craft area. Thanks to Catkin and Bumble Bee for carrying on as normal despite some of us being preoccupied with other issues!
For pictures of the slackline successfully in use, click here.
No comments have been left yet.