Session 5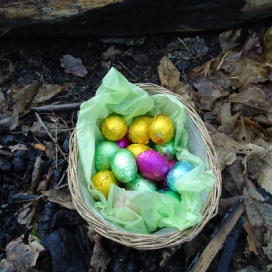 An Easter 'Eggstravangza'.
This week the children had to work in teams as they took part in a treasure hunt in the hope of being rewarded with Easter eggs! They searched the woods for the questions they had to answer, word searches and anagrams they had to solve-all with a wildlife theme. The anagrams proved to be quite tricky. See if you can solve these.
FELLED ROWER
LEARNED SILENCES
LAMB WHOOSH SNORT
VEG OF LOX
Fortunately, all the children managed to answer enough questions to receive their Easter egg prize!
Square lashing was the knot challenge that was introduced this week. Several children were very successful in mastering this and used it to lash two sticks together to create an Easter cross.
Thank you to all the children for remembering their school uniform for the church service in the afternoon- Bracken and Foxglove are very relieved that you did! We wish you all a very happy Easter and look forward to seeing you after the holiday. The woods should be looking even more beautiful then with many of the spring flowers in bloom.
Click here to see photos from this week.
If you would like to blog about your Forest School session, please submit a comment below.
No comments have been left yet.