Session 4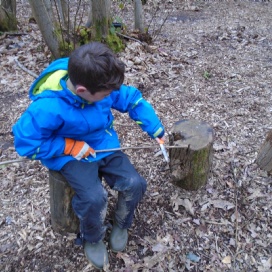 Surprise visitors, knife skills, creative crafts and archaeological digs!
This week we were delighted to welcome two surprise visitors back into the woods: Mrs Tompsett-aka 'Dormouse' and Emily, an ex-pupil. It was lovely to catch up on all their news and share our Forest School session with them.
Several children took up the challenge to develop their knife skills and are now the proud owners of their very own toasting forks- we will be testing them very soon!
Emily inspired some of the children with the very intricate dreamcatcher that she made, and we have started to create an outdoor art gallery to display many of the children's creations from natural materials. Another group of children were very excited to discover 'ancient' pottery and glass jars buried in their den area and showed true resourcefulness in unearthing their finds-future archaeologists in the making!
Click here to see their discoveries and other photos from this week.
Please remember that there will be NO Forest School session next week because of the road closure. The next session will now take place on the 5th April. Make sure you remember your school uniform for the church service that afternoon!
If you would like to blog about your Forest School session, please submit a comment below.
No comments have been left yet.