Session 3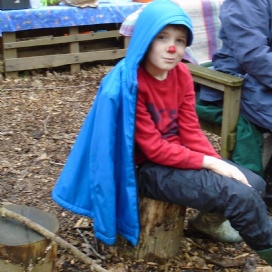 Red Nose Day in the woods!
In honour of 'Comic Relief' we started our session in the woods today with a treasure hunt. Hidden around the woods were many jokes and riddles. The children's task was to find these and then return to our base where they had a go at stand-up comedy. Would they be able to make Batty, Bracken and Catkin crack a smile?!
After some excellent comedic routines (and in some instances an explanation of the punch line!) the children revised their knot tying skills. Once they had mastered the timber hitch and quick release tension knot, they were able to put these very useful knots to good use to put up tents and hammocks.
The den builders were disappointed to see that the high winds had destroyed their efforts from the previous week but set about clearing the area and refining their construction techniques. Several den areas have now been established in the woods and it has been great to see the children working so cooperatively with one another. Next week some of the children are keen to use knives for whittling-I wonder what they will create?
For now I will leave you with one of the riddles that the children had to solve. Can you guess the answer without having to ask your child?!
I am the part of the tree that is not in the sky or under the ground. I can move throughout the day and change shape. What am I?
Click here to see photos from this week.
If you would like to blog about your Forest School session, please submit a comment below.
No comments have been left yet.