Session 2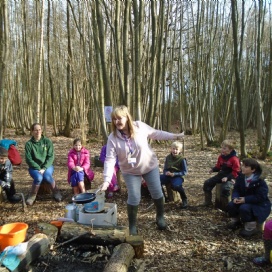 A 'flipping' marvellous day!
Beautiful spring sunshine greeted us today, encouraging Batty to break into an interpretive dance routine demonstrating the best way to toss a pancake. Thus inspired, the woods were soon a hive of activity as the group searched for firewood and made the pancake mix! Whilst some children read the recipe carefully, weighed out ingredients accurately and whisked the batter for the pancakes, others prepared the camp fire. With such excellent team work, there was even time to light the Kelly kettle so that everybody could enjoy hot chocolate with their pancakes.
Once the main tasks had been accomplished the children were free to choose their own activities. Den building remains the most popular activity, but it was also good to see children challenging themselves in the tool area. Palm drills were put to good use to hollow out elder stems to create more complex items such as puppets and to drill multiple holes into tree cookies to enable different thread designs to be produced.
What a perfect way to spend a Friday morning!
Click here to see the photos from this week.
If you would like to blog about this week's session please leave your comment below.
No comments have been left yet.